Case Studies
National Conversion Booster has helped hundreds of clients grow their business with a more effective website. We have a 98% success rate because we care about our clients' business like it's our own, and we have a collection of supremely talented designers, engineers, marketers and Conversion analysts working hard to make your campaign a success.
Here are two recent case studies that highlight our track record.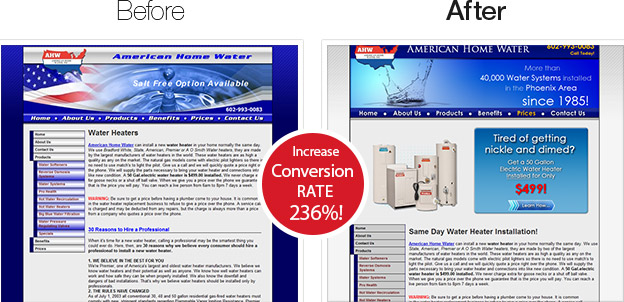 How We Did It
Campaign Objective: To improve lead generation rates through the website by executing A/B conversion tests on a highly visible landing page.
Target page: http://www.americanhomewater.com/water_heaters.php/. We opted to begin testing on the water heaters page based both on the client's goals for his website, and also on Google Analytics. Upon reviewing analytics we discovered that:
The water heaters page was receiving the highest amount of inbound traffic compared to all other landing pages onsite.
The bounce and exit rates of this page were relatively low compared to other pages onsite.
Goal Page: http://www.americanhomewater.com/contact.php.
Events: Successful completions of the onsite contact form and/or lead generation via the telephone.
Hypothesis: Conversion rates will improve by:
Creating clear, concise calls to action in the above the fold areas
of the web page.
Supporting the calls to action with solid hero shots and bulleted copy.
Modifying background colors to more prominently feature our calls to action.
Fabrication: Three mock up versions of the water heaters page were fabricated. Each mock up used a different combination of above the fold changes in order to accomplish our goals. The changes include:
Adding a call to action to the above the fold area of the page, and featuring it prominently next to the hero shot.
Updating the header and top navigation areas of the home page to be more consistent with our goals.
Modifying placement of the telephone number.
Tracking: Tracking codes were applied to the 'Thank You' page (accessible only by completing the mail form), and the 'Contact Us' page (funnel toward another opportunity to complete the mail form).
We also secured three new, local telephone numbers through AT&T in order to track telephone leads.